Hanger Supply Chain: Meerkat2 Product Focus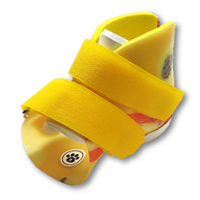 Meerkat2 Pediatric Low Tone Supramalleolar Orthosis (SMO) Developed by Hanger Clinic clinicians, engineers and technicians, Meerkats are designed to accelerate each child's specific rehabilitation goals. Individual patient measurements and data-controlled inputs are used to guarantee fit. Each device is personalized with kid-friendly packaging, including AFO socks and a stuffed animal to further encourage wear.
Indications: Hypotonia, moderate to severe flexible pes planus and moderate to severe ankle instability.
Contraindications: Clubfoot, forefoot deformities, high tone.
Product Features: